Posted by Mindy Tulsi-Ingram on 1st Feb 2022

Hello February! We made it through the first month of 2022.

The start of the second month of the year also marks the beginning of the Chinese New Year. 2022 is the year of the Tiger. For those born in 2022, 2010, 1998, 1986, 1974, 1962, 1950, and 1938, this is your birth year which marks the beginning of new adventures, be sure to wear red for extra good luck! The Tiger is known as the king of all beasts in China. The zodiac sign Tiger is a symbol of strength, exorcizing evils, and braveness. According to the horoscope for Chinese New Year 2022, Ox and Goat will be the luckiest zodiac sign in 2022. For those born in the years of the Rat, Snake, Monkey, Pig, and Dog, this year might be a bit trickier for you and require extra strength and willpower. Rabbit, Dragon, Horse, and Rooster people are destined to enjoy a smooth life and good luck in making money this year.

For the first week of February, be sure to incorporate red as much as you can into your life. Red is a symbol of good luck, joy, and prosperity in Chinese culture. Typically when we think of red we think of emotions such as anger, power, or a bull in a China shop. However, red isn't always bad. In Chinese culture, it represents summer, warding off evil, and fertility, or in our culture seeing red isn't necessarily always a bad thing. Stop signs are red and they remind us to slow down, take a break in order to ensure our safety and others.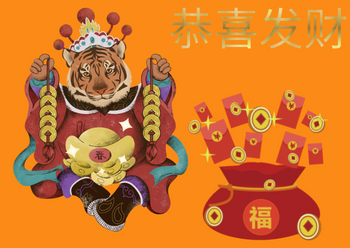 During Chinese New Year, family and friends often exchange red envelopes filled with small amounts of cash. Typically, you would think that the cash would be good luck, but in this case, the good luck is encompassed in the red envelope. The story of the red envelope is one of the oldest Chinese New Year stories. The legend says that a demon known as 'Sui' terrorized Children while they slept on New Year's Eve. Parents tried to keep up their children in order to protect them, one child was given gold coins to play with as a distraction, but he eventually drifted off. Sui appeared but as he went to touch the child, the coins he was given protected him and shone a light on Sui that sent him away. Today the envelope is symbolic of the coins. While the tradition started off with children, red envelopes are given to friends, family, and even coworkers. It is typical for Chinese employers to provide their employees with red envelopes filled with a small token of their appreciation. If you have anyone in your life who celebrates Chinese New Year whether it's in your work or home life, take the time this week to wish them good luck and prosperity by seeking out a red envelope to give to them or a gift laded with bright colours to communicate your wishes for the year of the Tiger.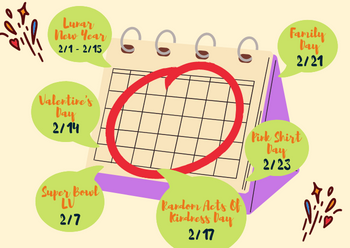 Why is it that whenever we have something of importance, we mark it in red? When there's something important on our calendar, we mark it in red, stop signs are in red, important notes are done in red, etc, etc. Red has always been a marking of an important event or idea. This is where the expression, have a red-letter day comes from. This February we are encouraging you to treat every day like a red-letter day. Whether you have a big company meeting or you have to get the laundry done, whatever your day may bring you, treat it as if it's a red-letter day. Notice the difference in your mood and perspective.

There's one red-letter day in February that comes to mind when we think of February and that day is Valentine's Day! Valentine's Day is typically used as a day where couples celebrate their love Valentine's Day however it can be for everyone. There is an abundance of people in your life who love you and are grateful to have you in their lives. Use Valentine's Day as a day to remind all of the special people in your life that you love them and appreciate having them in your life. As we enter the year of the Tiger who is known for bravery and strength, embrace the fearlessness of the Tiger and roar for love. Let those special people in your life know how much you appreciate it by shouting it from the rooftops. Okay maybe you don't have to go that far but you get our point!

Bring on and extend your Red-Letter Day for this Family Day on February 21st here in British Columbia, Canada.
Gong Hay Fat Choy. May the Lunar New Year bring you and your family good health, happiness and prosperity. May the year of the Tiger be mighty and lucky.
All my very best,