Posted by Mindy Tulsi-Ingram on 18th Nov 2021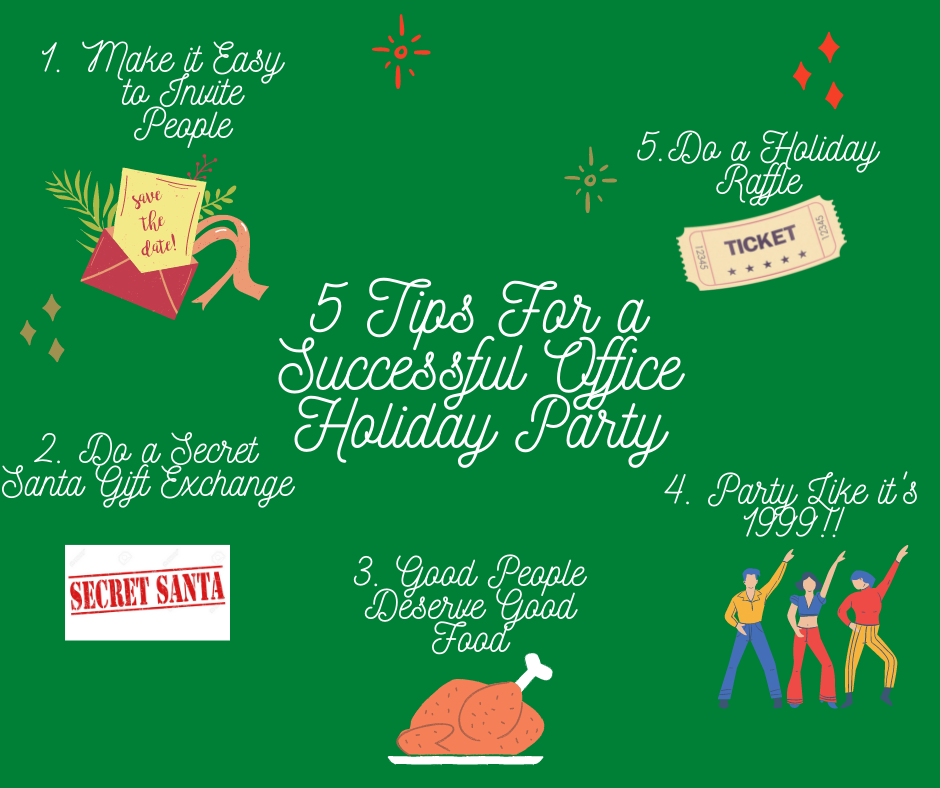 As we approach the most magical time of year, we are also approaching what some would consider the most stressful time of year. The time of year where you have to start planning your office holiday parties, organizing secret Santa, looking at bonuses, and all of the other time-consuming activities companies face at the end of the year. Whether your office party is going to be virtual or in person, we understand that planning a holiday party is no easy task! Check out this list of helpful tips to help your holiday season be a complete success.
Tip #1: Make it easy to invite people. Emails with virtual invitations can often get sent to spam which can impact your attendance. Employees often look forward to gathering with their colleagues and having the chance to connect in a less formal environment. Office holiday parties can do wonders for morale in the weeks following so ensure your invitation is in an easily accessible place, we recommend creating a Facebook event so everything can be kept in one place.
Tip #2: Do a secret Santa gift exchange. This is a fun opportunity to get your employees involved in your holiday season festivities and also gives them an opportunity to create a closer relationship with one of their colleagues. Secret Santa also takes some of the holiday season's costs off of your plate. While creating a secret Santa gift exchange program, be sure to set up clear rules and guidelines for your employees. Set a spending limit so that all of your team feel included and equal. Be sure to remind your team of holiday season etiquette to ensure that everyone has a great time and nobody feels left out or embarrassed.
Tip #3: Good people deserve good food. Holiday office parties are often held later in the day after work and hungry guests can take a party from great to blah. Keep it simple and order a couple of pizzas later on in the night and surprise your guests (this is usually followed by "you guys are the best") or get creative and get all of your guests to bring in a dish and have a potluck! Having a potluck is also a great way to include some diversity within your party, you can even make a theme such as bringing a dish from your childhood or home country. Or just keep it light with a variety of snack options so that everyone can enjoy it! Check out snack heroes for some more ideas.
Tip #4: Let's party like it's 1999!! Have you ever been to an office party where there are no activities planned and people just end up standing around? Nobody wants to be "that guy" that didn't plan anything fun for their staff to do. Planning some fun activities or games get's the whole team involved and engaged so even people that usually don't socialize can be included! Some fun activities can include trivia, holiday ABC games, having a Santa, office snowball fight, karaoke, etc. Or if you're hosting a virtual party you can set up games through zoom, make it a themed party, gingerbread house contest, there are endless ways to get your team laughing and smiling throughout your party whether it be in person or virtual.
Tip #5: Do a holiday raffle! Create a gift basket or some sort of prize to give away to your employees. Raffles are a great way to involve everyone and get them excited about potentially being able to be the chosen one to bring your prize home. Holiday raffles can include gifts such as; chocolate, fun snacks, unique artwork or platter trays, figurines for desks, wine, etc. The options are limitless but be sure that your gifts will be attractive to your whole audience.
With these tips in mind, your office holiday party is almost guaranteed to be successful! Bringing your whole team together can change your work environment from 'colleagues' to 'family', and who doesn't want that?! The holidays have a way of connecting and bringing people together and by doing so, you can increase your team's morale and productivity!
For more ideas on gifts to give, gift appropriation, and all holiday gift essentials, check out our selection for your one-stop-shop!